Envision your goals, dreams or intentions and create a visual reminder to help bring them to reality. Perfect for setting goals for the New Year or to establish new ones throughout the year. In this program, I walk you through a Guided Visualization and Written Exercises. Then I show you step-by-step in a fun tutorial how to incorporate mixed media, collage and found objects to create your Wall Hanging Vision Board and/or Vision Prayer Flags. 
2 in 1
You get two projects in one online course
What makes this form of vision board unique, is that you are able to add panels to it throughout the year or you can create multiple hanging vision boards or flags for each topic. Once completed, this vision board or flags are easy to hang any where in your home, studio or sacred space. The perfect visual reminder to reflect on throughout the year.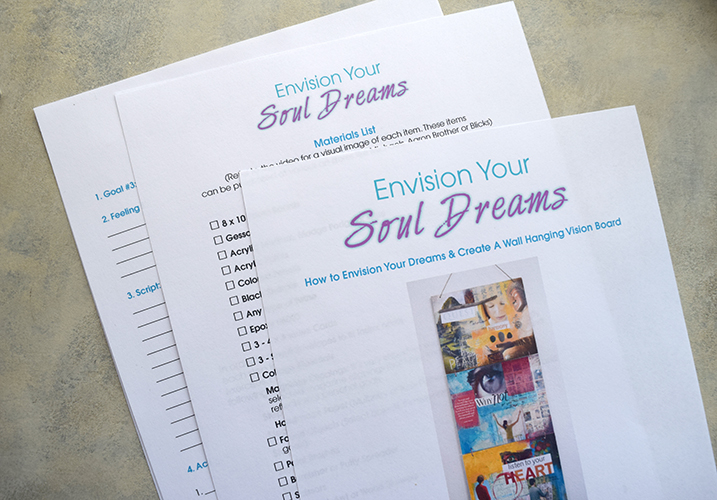 I have designed this program to help you get connected to your soul dreams, goals or intentions. Included along with step-by-step videos, a Guided Visualization Audio and Worksheets with written exercises. These additional items are intended to make your Wall Hanging Vision Board or Vision Prayer Flags more meaningful and personal. And you can do this program in the comfort of your own home and at your own pace.
Course Curriculum
Available in days

days after you enroll

Wall Hanging Vision Board
Available in days

days after you enroll

Building Your Hanging Vision Board
Available in days

days after you enroll

Vision Prayer Flags
I'm a professional mixed media artist and have been teaching a variety of mixed media workshops for the last several years. I have an extensive background in art & design. I'm a licensed therapist and creativity coach. So, I understand the ins & outs of the creative process. Especially what it means on a personal level to be able to express yourself creatively.
I love helping students get passed the obstacles getting in the way of their personal artistic journey. With an encouraging and safe space, I help them uncover their true creativity and discover that they ARE an artist.
Mixed media is the perfect medium that allows you the freedom to get messy and explore what organically unfolds. You'll be surprised at what you can create when you're given the permission to not have it be perfect and to PLAY!
In my courses, I share my experience and knowledge working in mixed media and the different techniques that can make your pieces rich with layers and dimension. I give you the basics for the different techniques and then encourage you to follow your own creative intuition.
I hope you have fun & enjoy the course.
To learn more about my story visit my website at TrueCreativityWithin.com